DESTINATION IN SITTWE
Sittwe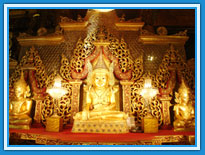 Sittwe is a harbor and the capital city of Rakine State. It is located on the western coast of Myanmar. The majority of habitants are Rakhine and they speak dialect of Myanmar. The visitor can see some colonial buildings, fish market, Rakhine Museum, Pyilonechanthar pagoda, pharos. Most of the local people are fishermen.
Mrauk U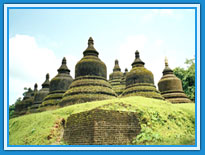 Mrauk U is the most famous and the last capital of Rakhine Kingdom from 1430 to 1784. It was founded by King Min Saw Mon in 1430 AD. Mrauk U reached its peak of aura during the time of King Min Bin (1531-1553). It is 80 km north of Sittwe. A visitor can get there by boat passed Bay of Bengal and drive along kaladan river. There are so many interesting Temple and monuments in Mrauk-U.
Shittaung-Temple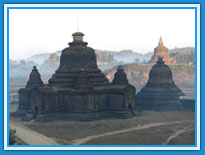 The biggest and most wonderful Shittaung Temple was built by king Min bin in 1535. Shittaung means ''shrine of the 80000 Buddha figures". A visitor can walk inside and see different sculpture.
Dukkanthein
It was built by king Minphalaung in 1571 AD. The meaning of Dukkanthein is "Ordination hall that spiritually reinforces the town.
Kothaung Temple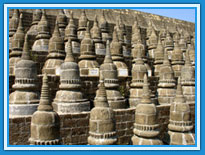 It was built by king Minbin son's Mintaikkha in 1553. He copied his father's temple Sittaung and gave the name Kothaung. It means "the shrine of 90000 images". It was damaged in 1776 by earthquake and in 1997 renovated.