DESTINATION IN BAGAN
Bagan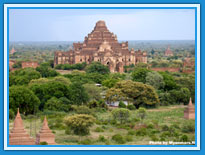 Bagan is situated in the middle of Myanmar, the tropical zone, and at the eastern bank of Ayeyarwady River. The glorious days were in the 11th century when ruled by King Anawratha. But it was established in 9th century by King Pyinbya. From the time of King Anawratha, the Buddhism reached in Bagan Empire with the help of monk Shinarahan and the people become to believe in Buddhism. The Empire of Bagan was destroyed in 13th century.
Mt. Popa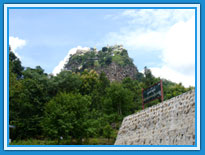 It is the extinct volcano and the main land of Nats. You can get there by car. It is only 50 km away from Bagan. Nats festival is hold there in May and June of each year.
Salay
It is 36 km far from Bagan and it is famous for the ancient monastery with wood carving of Jataka (the former lives of Buddha). It took a decade to finish this monastery (1882-1892) and every part of this monastery is wood only. Seedless plums is another fame of Salay.
INTERESTING PLACES IN BAGAN
Shwezigon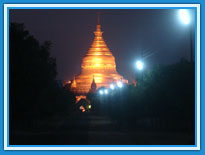 Shwezigon was built by King Anawratha in 11th century after he went to throne and it is a prototype of present Myanmar Pagodas. Shwezigon Pagoda is supposed to be the north borderline of Bagan. King Anawratha got the relics of Buddha from Sri lanka and built 4 Pagodas in 4 directions. Nat images, 37 nats figures, and many interesting things can be found in this pagoda.
Ananda Temple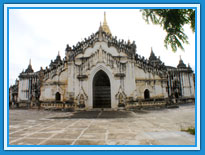 It was built by king Kyansittha in 1090 and the master piece of early Bagan Temple. There are four huge Buddha Images which are in the standing position and 9.5 m high. You will surely appreciate the architecture of this temple. Ananda Oakkyaung (the brick monastery) is situated near the Temple and there are mural paintings inside the Ananda Oakkyaung.
Thatbyinnyut Temple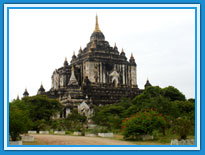 It was built by King Alaungsithu in 12th century and the highest temple (over 60 meters) in Bagan. There are 539 Jataka depicting of Buddha's life on the glazed plaques.
Shwegugyi Temple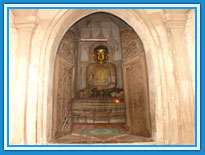 It was built by king Alaungsithu in 12th century. There are two original doors. It was made of teak wood. Ever body can go up the temple and can look the landscape of Bagan.
Dhammayangyi Temple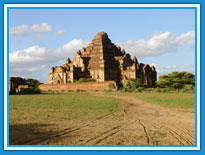 It was built by king Narathu in 12 century and the biggest temple of Bagan. It wasn't finished because of his death but you can find its finest bricklayer.
Gubyaukgyi Temple (myinkabar)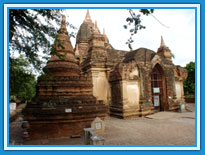 It was built by Jazakumar, son of the king Kyansittha, in the 12th century. There are many mural painting inside and are well-preserved.
Manuha and Nanpaya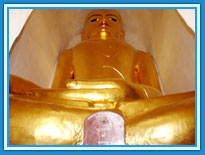 It was built by king Manuha from Thaton. He was captured by King Anawratha in 11th century and then lived in Bagan like a prisoner. So he built this temple to express his feeling.
In the south of the Manuha, there is a beautiful temple called Nanpaya built by the grandson of Manuha after he died. There are many beautiful figures of Brahma and Lotus flowers look like Ankhorwat in Cambodia.
Other interesting places in Bagan
Shwesandaw, Mahabohdi, Sulamani, Bupaya, Dammarazika, Tayokpyay paya, Payathonesu, Lawkananda, Htilominlo, and so on………
Sunset
We would like to recommend you Pyathatgyi Temple as the best place for sunset. If you take it you can easy to go on and feel the magnificent of Bagan.