DESTINATION IN MANDALAY
Mandalay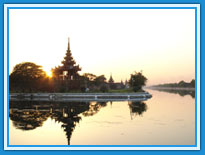 It was the last capital of Myanmar Kingdom and was founded by King Mindon in 1857. But the golden time was really short. In 1885 during the reign of king Thipaw, the British took the control of the whole country, Myanmar.
Mandalay Hill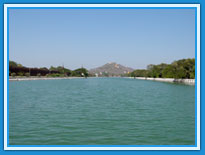 Mandalay Hill, 230 meters above sea level, offers a magnificent view of the city and surrounding countryside. Two ways to proceed to the top, one stairway with 1729 steps, another by car .
Khuthodaw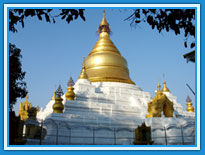 The biggest book of the world, Khuthodaw, was built by king Mindon in 1860. It took 2 years to finish after the fifth synod of Theravada Buddhism . There are 729 marble inscription in pali thipitaka.
Shwenandaw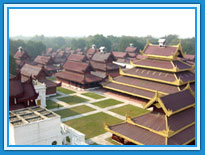 It was the royal teak building of Mandalay palace. Later, it was moved outside the palace which was used as a monastery in 1879 and left the rest of royal building during the second world war.
Mahamuni (Phaya gyi)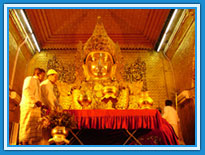 King Bodaw paya brought this Mahamuni Image from Rakhine after the victory over the Rahkine empire in 1784.It is 4 m high and made of bronze covered with 15cm thick layer of gold-leaf. There are interesting things like the bronze figure from Ankorwat , Ayeyarwon figure (elephant with three heads) and etc.
Other interesting places
Mandalay Palace, Kyauktawgyi, Sandamuni, Atumashi monatery, gold leaf, stone carving, tapestery.
Amarapura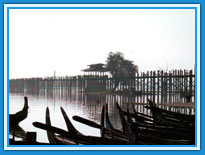 Amarapura is 11 km far from Mandalay in the south and it was the ancient capital , was built in 1783 during reign of King Bodawpaya. Interesting places are U Bein bridge (across the Taungthaman lake), Mahagandayone Monastery, Kyauktawgyi Paya, silk weaving industry.
Inwa
It was an ancient capital of Myanmar, was situated south of Amarapura on other bank of Myintnge.You can get there by ferry boat and can see Nanmyint Tower, Mahaaungmyaybonzan monastery (Malnu Okkyaung), Bagayar Monastery.
Sagaing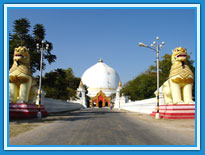 Once an ancient capital, Sagaing lies 21 km south west of Mandalay, beside the Ayeyarwaddy River. The Sagaing Hills are dotted with pagodas and there are over 500 monastery, a retreat for some 6000 monks and nuns. Soon U Ponya Shin Pagoda, Kaung Hmudaw Pagoda (a copy of the Mahaceti Pagoda in Sri Lanka), and Ywahtaung(home of the silversmiths' guilds) are places of worth visiting.
Mingun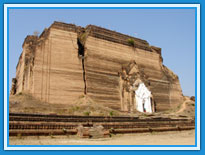 Mingun is 11 km upriver from Mandalay, situated on the western bank of the Ayeyarwaddy River. Interesting places there are Mingun Patho, built by King Bodawpaya but unfinished, Mingun Bell, the largest ringing Bell in the world, Sattawya Pagoda and Mya Thein Tan Pagoda.
Pyin Oo Lwin (Maymyo)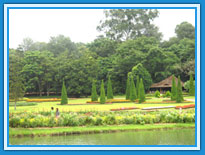 Over 1000 meters above sea - level, Pyin Oo Lwin is a popular hill-station, about 69 km away from Mandalay. It is well-known for its colonial-style houses with large compound and pine trees, eucalyptus and silver- oak abound in town. Delightfully cool and pleasant the world year round, the 175 hectare National Kandawgyi Gardens, Pwe Kauk and Anisakan Waterfalls and Peik Chin Myaung Caves are places of interest.
Monywa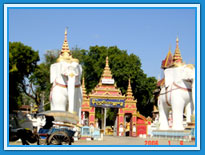 About 136 km to the west of Mandalay is Monywa, the commercial centre of Chindwin Valley. For sightseeing, Than- bok-de Pagoda with over 500,000 Buddha Images, Bodhi - ta - htaung (one thousand Bo Trees), Ledi Kyaungteik monastery where Buddhist scriptures are inscribed on 806 stone slabs and Kyauka Village known for its own style of lacquerware are famous. The other places are Phowintaung and Shwebataug. You can get there across Chindwin River by car.